Taking the Leap from KPI's to Balanced Scorecard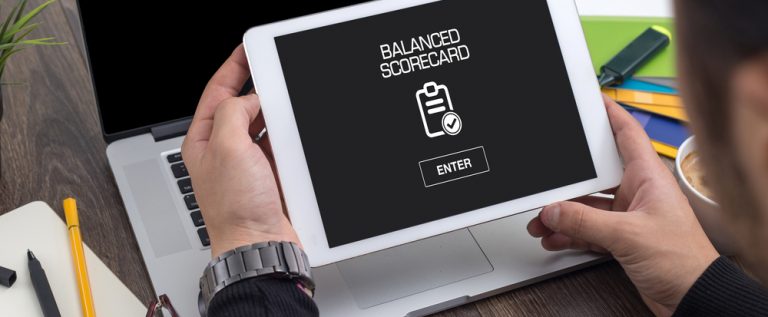 One of the most influential methods a company can utilize to transform its organization is the Balanced Scorecard. According to Gartner, 50% of enterprise-level companies in the US have adopted this method and it was selected by Harvard Business Review editors as one of the most influential business ideas of the last 75 years. Yet, most middle market companies are still working with KPI's. It is time to make the leap.
The Balanced Scorecard is a management system that enables an organization to translate their vision and strategy into action.  The concept was developed by Professor Kaplan of the Harvard Business School and David Norton. It transforms the academic exercise of strategic planning into a fully realized system. It has been embraced by organizations worldwide to evaluate and make sure that key performance indicators are balanced across processes and work units to support organization-wide goals.
"The Balanced Scorecard retains traditional financial measures. But financial measures tell the story of past events, an adequate story for industrial age companies for which investments in long-term capabilities and customer relationships were not critical for success. These financial measures are inadequate, however, for guiding and evaluating the journey that information age companies must make to create future value through investment in customers, suppliers, employees, processes, technology, and innovation."
The Balanced Scorecard suggests that we view the organization from four perspectives – Learning and Growth, Business Process, Customer, and Financial and by doing so transform the organization from one focused simply on financial measures to one that has a broader view.
Customer Understanding
Customer satisfaction and focus are primary drivers of this approach. As we progress into an age of mass personalization, this becomes even more relevant and graduates to the level of anticipating customer needs. Customer analysis and data gathering are highly relevant.
Employee Learning and Growth
Learning and Growth looks at training and corporate culture focusing on improvement at all levels. Learning includes more than training but also mentors and tutors and well as effective communication systems that enable problem-solving and analysis when things go bad.
Business Processes Development
Here, we are internally focused on enabling managers to understand the dynamics of the business, whether they are achieving the vision, and most of all, whether customers are satisfied. This requires an intimate knowledge of not only the business and its processes but of the customer's needs.
Financial Data Expansion
The management and accuracy of financial data are highly important. The goal here is to balance this with regard to the other perspectives. This may mean adding additional financial metrics such as risk and cost/benefit analysis.
In addition, the best practices in Balanced Scorecard application have been established from organizations that have implemented the balanced approach and used them for some time (5+ years).
When developing performance measures a balanced approach is highly recommended. Top management, middle management, and the field management should be involved at about an 80/80/40 level.
For perspective, utilize multiple approaches to develop the measures from working meetings, focused task forces, interviews, focus groups, and 3rd party experts.
Circulating the scorecard throughout the organization to gain feedback is recommended; from business unit, to department, work group, core process, and finally individual employee.
Utilizing Organizational Change Management to gain adoption and acceptance should be a key component to your rollout strategy. Establishing a primary sponsor and sponsor coalition will create support. Moving from KPIs to a Balanced Scorecard means your audience will grow in size. Visual methods should be intuitive to understand. This may mean employing examples for each specific audience. The display of complicated data should be specific to the audience that will understand the performance measurement. Depending on the situation, specific training may be a requirement.
For more complex situations, be prepared to experiment, it may take a few iterations and some mistakes before you hit the right mix of information for your various audiences. Just as there are preferred roadmaps and methodologies to develop your KPIs, the same holds true for reporting your measurements. This will be the case whether you are reporting good or bad news. Be sure your reporting:

Provides a key or context to the scorecard
Is created to be easy to read, clear and with intuitive/ easy to interpret displays
Asks users what is the preferred frequency of reports
Considers training the staff
Consider revisiting the display of data at a 3 or 6-month mark; ask your audiences if you are presenting the right information, presenting in the right way, and if the reported information is timely for them.
The primary focus utilizing Balanced Scorecards are improved performance, but most organizations also realize better decision-making by managers and more informed employees. These outcomes lead to greater accountability and responsibility across the organization.
---
Other articles on Operational Transformation
Increase Efficiency by Not Telling People What to Do
How Asking One Question Can "Delight" Your Customer
Embracing Business Transformation through Digital Technology Should be a 'No-Brainer'
Process Visibility…Now You See It!