Procurement: The Ideal Candidate for Operational Transformation?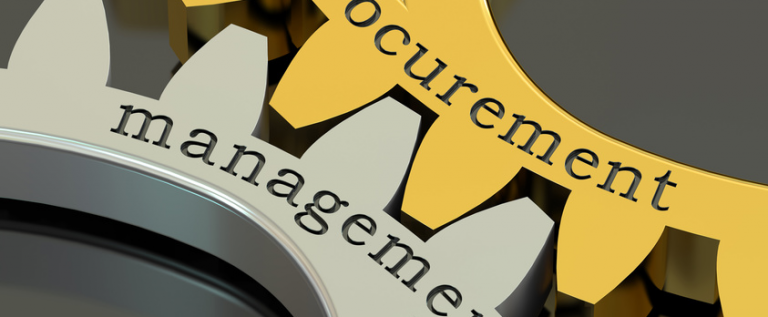 Every company pours a great deal of research, analysis, and resources into transforming their organization, asking themselves strategic questions: How can we accelerate our growth?  How can we increase revenues XX%?  How can we gain market share in our industry?  Seize this opportunity to examine your operational support roles and ask: Are we getting the most out of our procurement organization?  The procurement function must fundamentally change with the growth of the organization. But how?
Overview of Procurement Structures
Procurement structures come in many different shapes and sizes, and there isn't a single "magic bullet" for your organization to implement. Organizations categorize their procurement structure in one of the following ways:
Decentralized – The procurement organization, if it is defined at all in the organization, has a very autonomous structure. The end users execute the procurement functions – which are typically simplified – and financial controls are limited.  There is little to no strategic sourcing, minimal supplier contracts are set up, spend is not categorized/analyzed, etc.. A decentralized organization should still utilize spend management activities, but the efforts will be lower than those in a centralized organization.
Centralized – The procurement organization is typically based out of or controlled from a single location (or very few sites), with resources dedicated to the procurement activities. Centralized organizations tend to use more controls and policies for procurement processes.  They engage in higher level procurement practices, such as strategic sourcing, approved supplier lists, and spend management.
Blended – This procurement organization tends to be broken into several structures or sets of policies; however, the structure does exist and is clearly defined with resources and higher level procurement activities in place. The separation of structures can be based on spend category or region, while still reporting to a Chief Procurement Officer or other executive responsible for procurement functions.
Below is a high-level illustration of the differences between the different structures:

Signals for Change
Determining which structure of the procurement function is right for your organization isn't always clear. There are plenty of articles advocating for strict centralization and plenty for decentralization.. There are also plenty of articles that say "it's up to the organization" with no guidance on when a change is needed. There are a number of flags to signal that a change is needed to slide towards one end of the spectrum or the other. These "flags" are easy for an organization to detect if they know what to look for.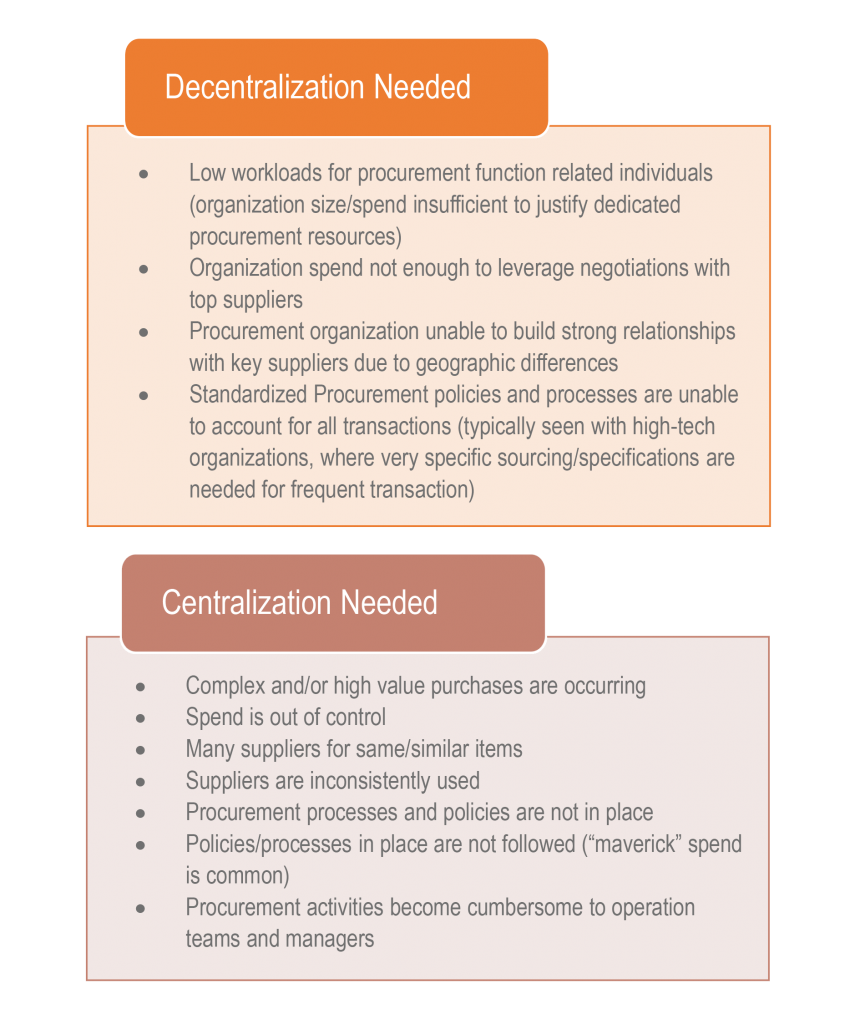 Setting Your Organization Up for Success
While there's no magic bullet for what is best for your organization, the important thing is to take that first step and explore what is right for you – what do your people, processes, and technologies allow you to do today? Is this taking you in the direction you want to go, at the pace that you would expect, and, if not, what can you do to realign this structure? When it comes to capitalizing on the structure of a procurement organization, the proper implementation is just as important as the proper selection to the success of your business. Implementation success factors hinge on the organizations People, Process, and Technology.
The People aspect of the transition is always paramount during the transition. In order to go from a decentralized structure to a centralized structure, the core of the Procurement Organization HAS to be strong and mature. There is no efficiency or benefits gained by funneling an increasing volume of activities through resources that aren't able to execute on them effectively. Is this reason to shy away from undergoing those activities? No, an increase in training  or bringing more experienced resources on board should be considered.
The Process supports the people that you put in place to optimize your procurement organization. Whenever you go through a transformation, your organization has an enormous and unique opportunity to take a huge step forward to catch up to or, if you execute well, get ahead of your industry. Set yourself up for success through two very important categories: process definition and process enforcement. Process definition is exactly what you think it is – understanding your future state organization, and designing processes that optimize your resources.  This means putting the value add activities in the hands of the "mature" resources and minimizing your non-value add activities/processes.  Put time and effort into these designs so everyone feels confident about them.  Where organizations often fall short, however, is the enforcement of these processes. Without well designed metrics and well communicated support starting at the top of the organization to hold teams accountable, the processes too often fall victim to a lack of adoption. This leaves you with an organization that is restructured to fit the needs of one set of processes, while actually continuing to use their previous set of processes that are within their comfort zone. Don't let this transformation be a detriment to your organization – be sure to enforce all of your well thought out processes starting before Day 1!
The Technology selected during this process must also align with your People and Processes.  Do  not fall into the trap of looking at a high-level Gartner Magic Quadrant and picking the one that's the furthest into the highest quadrant.  Gartner and other product reviews serve as good, high-level guides, but were not created with your organization in mind. For instance, a procurement system that has an extremely intuitive user interface, but not necessarily the most in-depth functionality would likely be a great fit for a decentralized organization. Your users will thank you for the ease of use in their lighter touch usage of the tool and likely won't miss those more advanced features. For a centralized procurement organization, though? Your users will be impressed by the flashy design at first, but will quickly grow frustrated with the lack of functionality. The organization's self-inflicted limitation of your strategic resources will fester and may cause even more problems than you have today.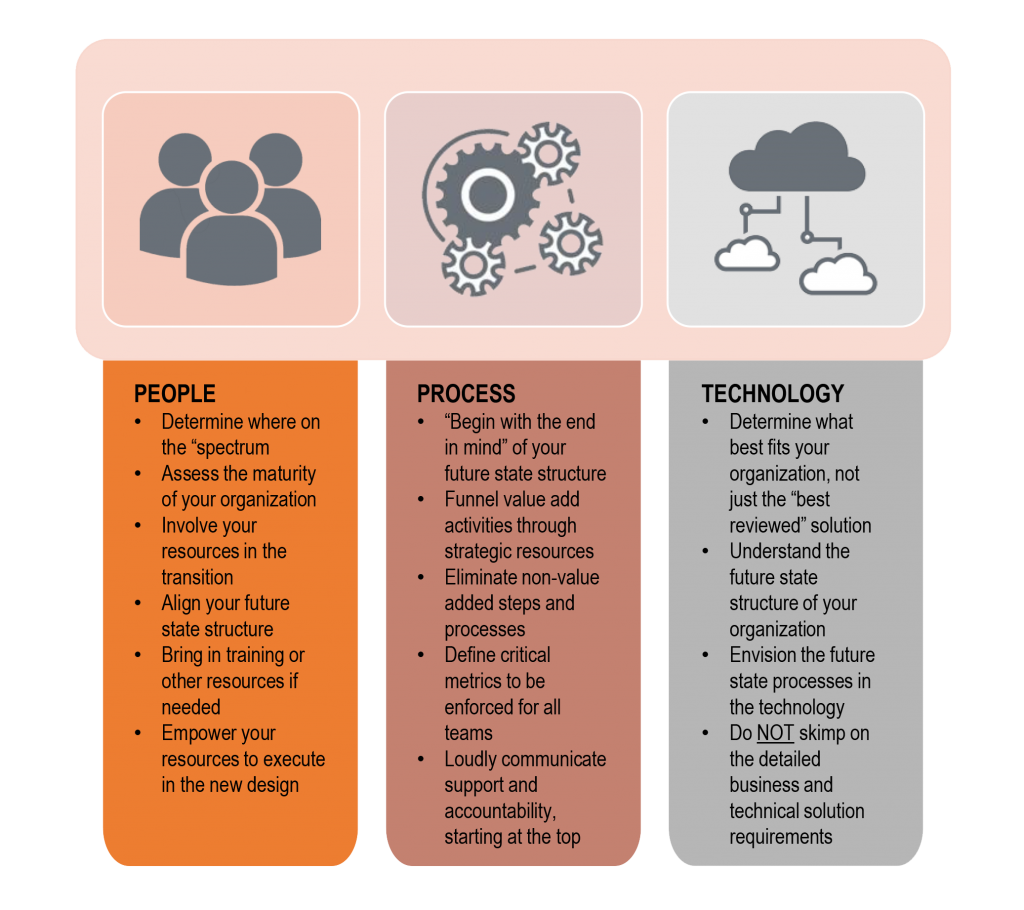 Getting Started
I've seen organizations that drastically benefitted from restructuring their procurement organization.  I have seen organizations devalue their procurement transformations trying to force a model on their organization that didn't fit simply because that's what other companies and organizations were shifting towards. The biggest difference between the two was the investment of the time and resources to independently assess their organization, and what transformation would be best suited for their needs. Don't look for a quick transformation – look for the right transformation.
---
Other articles on Operational Transformation
Mitigating Supply Chain Risk: What the Military Does and You Should Too
Is Decision Fatigue Sucking the Life from Your Employees?
Customer Service is No Longer Good Enough
From Around the Web: Automation and the Technological Advances of Yesterday