Transformational Leadership Forum: Action Logic Applications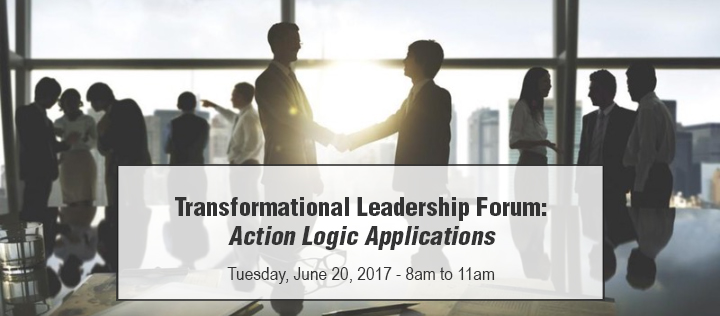 05/25/2017, , in
"… what differentiates leaders is not so much their philosophy of leadership, their personality, or their style of management. Rather, it's their internal "action logic"—how they interpret their surroundings and react when their power or safety is challenged."  ~ David Rooke
Do you know what your internal "action logic" is or where you tend to be in the leadership continuum, and how it impacts you and those around you?
Successful transformational leaders harness their own action logic and can understand the complex relationship between their actions and behaviors of the people surrounding them. As a result they are able to adapt their approach to best inspire others to action.
In an increasingly interconnected world, the ability to tap into the action logic of team members, build the desire for change, and drive desire to action are essential leadership competencies. Transformation cases from Fortune 500, mid-sized and high growth organizations will be utilized to highlight key learnings.
During this forum, our esteemed panelists will discuss the distinct stages of action logic, and how it is applied using practical, real world examples tested in the field. They will also contrast when it is appropriate to utilize transactional leadership (i.e. motivation based on rewards and punishment) tactics vs. transformational leadership (i.e. motivation based on collective understanding, trust and respect) strategies.
Audience
C-Suite and executive teams. Registration to be confirmed. Limited Seating
Experience
This event presents a unique experience to participate in discussion in a facilitated forum. You will have the opportunity to interface with the panel of experts while interacting with other senior-level executives.
The Advantage
Prepare to successfully navigate and action your next transformational business challenge. Learn from panelists who have applied these solution in the field and garner key learnings. You will be introduced to an innovative approach and develop new leadership competencies.
Panelists
Robin Postel, Ph.D. – Dr. Postel is sought out for her powerful questions and insightful perspectives on challenging issues. As a process consultant, facilitator and coach, Robin has worked with leaders, teams and organizations in both the private sector and public sector, in the United States and around the world. Her current focus is on helping leaders to step up the level and quality of thinking in their organizations, whether it be their own thinking (upgrading their cognitive operating system so to speak), or in the collective thinking that takes place through conversation as a core business process.
Matthew Forkner, JD – Matt is Vice President, Deputy General Counsel at GoDaddy, headquartered in Scottsdale, Arizona. Matt will share the benefits – and challenges – of transitioning to a transformational leader.
David Lee, MSSBTI Executive Director – David is a global executive with experience developing business relationships in Asia, Latin America, Europe, and the Middle East, with over 20 years of executive management experience in Fortune 500, mid-sized companies and start-ups. David is a highly regarded facilitator, writer, and public speaker on topics including Business Transformation, Managing Complexity, Disruptive Innovation, and Organizational Change Management.
Karen S. Walch, Ph.D. – Dr. Walch is a Partner at Clair-Buoyant™ Leadership, LLC and Co-creator of Quantum Negotiation Certification programs.  She is an Emeritus faculty member of Thunderbird School of Global Management.  Karen specializes in the social interaction skills of negotiation, collaboration, influence, and inclusion. Her facilitation and coaching are focused on developing leadership behaviors for maximum personal and organizational impact in a dynamic and disruptive global economy. She has several decades of experience in diverse business and academic settings, including insurance, law, tourism, aquaculture, security studies, MBA education, and corporate learning.
Facilitated by Margo A. Boster – Margo is co-founder of ImpaQ Solutions, and helps leaders, organizations, and team transform. She has a long history of helping organizations and the people within those organizations be and do more than they imagined. With more than 25 years of professional experience in senior leadership and information management, including more than 10 years in health information management, she combines proven, real world experience with the education and training to help you thrive. Her experience includes working with large corporations, small to mid-size companies, and federal, state and local government. Margo is creator and Program Director of the Arizona Transformational Leadership Program.
Schedule
8:00 – 8:30 | Registration and Refreshments
8:30 – 11:00 | Panel Discussion
Presented by ImpaQ Solutions and Arizona Transformational Leadership Program