Adapt or Get Left Behind: Realities of Digital Transformation and IT Service Management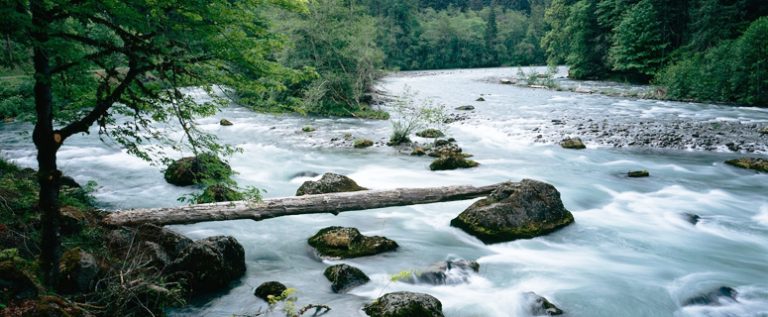 "No man steps in the same river twice."
– Heraclitus, Greek Philosopher (535 – 475 BC)
---
Heraclitus reasoned that by the time we walk from one river bank to the other the flowing river and the person that crossed it will never be the same. This theory of constant change is called "Flux."
We've all heard the adage that the only certainties in life are "death and taxes". Well, constant change is another certainty. Organizations that doubt the veracity of Heraclitus's theory and don't adapt to disruptive and emerging technologies will get left behind. In fact, organizations that attempt to adapt without a mature approach to IT Service Management will get left behind as well.
There is widespread consensus that if organizations aren't leveraging Digital Transformation, Predictive Analytics, and Artificial Intelligence, they reduce their ability to remain competitive.¹²³
There is also widespread agreement among Chief Information Officers that mature IT Service Management (ITSM) Processes are necessary for organizations to seize the surplus of opportunities associated with disruptive and emerging technologies.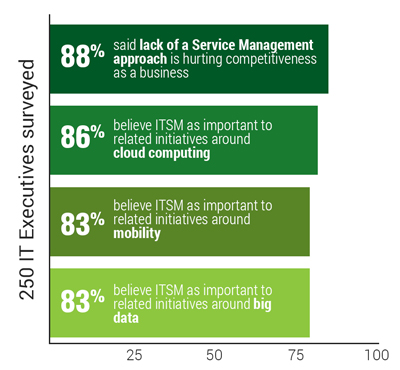 To be sure, in 2017, Forbes Insights surveyed 250 worldwide IT executives, of which 88% said 'lack of a Service Management approach' is hurting competitiveness as a business. Likewise, these same IT executives also believe ITSM as important to related initiatives around cloud computing (86 percent), mobility (83 percent) and big data (83 percent).4
They also noted despite increases to their IT budgets the majority of the spend was on activities running the business (i.e. keeping the lights on). This disproportionate allocation of the budget and resources prevents IT from engaging in activities that allow them to change the business.
As Heraclitus proved, change is constant and how we deal with change is the difference between success and failure. The evolving expectations from customers means that IT must quickly develop solutions enabling the business to go to market faster, be more agile, responsive, and adaptive to meet those expectations.
The purpose of this article is to provide a point of view that addresses a fundamental question: Do traditional IT Service Management Frameworks, such as ITIL have the capabilities to meet today's ever changing organizational demands?
Let's find out.
What is traditional ITSM?
Traditional IT Service Management (ITSM) it is most aptly defined as "A Strategic Approach for Designing, Delivering, Managing, and Improving IT Services". The premise is to follow a framework like the Information Technology Infrastructure Library (ITIL), which is a set of detailed practices for ITSM that focuses on aligning IT services with the needs of business. Over time, the IT department can increase the maturity levels of service management through efficient processes which result in fewer interruptions, less unplanned work, thus providing value to the organization.
Unfortunately, ITIL has been met with a lot of negative perceptions such as it's too rigid, too slow, too expensive, and takes too long to achieve desired maturity levels to realize value. While we can certainly refute these incorrect perceptions, during the infancy of our careers we realized perception is reality, so it's better to accept it and move on.
The Need for a New Approach to ITSM
Today's constant changes in technology and customer expectations require businesses to be more innovative, agile, and demonstrate a high sense of urgency, responsiveness, adaptability, and to move away from traditional thinking to remain competitive. If a customer experience doesn't meet their expectations they'll quickly move on until they find an organization that embodies the qualities they desire.
Similarly, IT has never been asked to do more with less and at unprecedented speeds. And they won't be successful without a mature ITSM organization. Sean Kirby Vice President, Support Center, at Buchanan Technologies puts it best when he says:
"The absence of a mature IT Service Management Process is like having a brand-new, state-of-the-art sports car, but with no systems or gauges of any kind to tell you when something is going wrong. It can be great for a while, but eventually it's going to result in a catastrophic failure."
What we need first is a more expansive set of tools that foster a faster, more agile, and more responsive ITSM organization by leveraging best practices from myriad philosophies. (e.g. ITIL, CoBIT, VeriSM, IBM BPM, Agile etc.)
One such approach is "Agile Service Management" developed by Jayne Gordon Groll.5 Ms. Groll correctly surmises that if we leverage some best practices from DevOps, Agile/Scrum methodologies and merge them with Service Management best practices we can achieve the flexibility necessary to add value to the organization. By extension, value-added ITSM allows the organization to remain competitive and pivot from supporting the business to changing the business to meet ever changing demands.
At the beginning we set out to answer whether traditional IT Service Management Frameworks, such as ITIL have the capabilities to meet today's ever changing organizational demands? Absolutely! However, it may be time to change how they're used. One idea is to adopt a "data driven" and "a-la-carte approach" to ITSM.
Why take data driven approach?
A data driven approach allows us to begin where we are. That is, when we analyze the data an organization has, we allow it to make decisions on what is "known" rather than what they "think". We may very well conclude the data is useless because it lacks the specificity to make meaningful measurements. After all, how can one manage what can't be measured? Alternatively, our analysis may prove the organization has perfected basic blocking and tackling and is ready to become more automated, proactive, and predictive in its service offerings.
Either way, a data driven approach allows us to start where we are, to identify and prioritize what needs to be done quickly to ensure People, Processes, and Technologies produce the most value to the business and its customers as possible.
Why take an "a-la-carte approach"?
My first IT mentor was a transformational CIO with a successful track record of turning around underperforming IT organizations by aligning business and IT. I can still hear him saying, "Tony, Applications and Infrastructure doesn't just break; rather it's more likely somewhere there was a change to People, Process, or Technology".
So, when I perform ITSM assessments I often begin by first examining Change, Release and Deployment, or Service Desk processes. If an organization has no formal Change Management process, I know where to begin. Similarly, immature or non-existent Incident, Problem, or Release and Deploy processes provide an opportunity for quick wins and instant value.
In a world of constant change, ITSM needs to be prepared to shift from slow, outdated processes into agile and responsive approaches to market demands. Approaching an ITSM transformation is a difficult decision, and all IT departments need to consider how well they are serving their business and their customers with their ITSM systems.
One thing is certain, when you come out of this river, you'll never be the same.
Stay tuned for my next ITSM article where we'll dive deeper into ITSM transformation, including a discussion on the cultural and behavioral adjustments necessary to transform ITSM.
---
¹ http://www.digitalistmag.com/digital-economy/2017/11/17/why-digital-transformation-should-focus-on-growth-not-disruption-05507530
² https://sloanreview.mit.edu/projects/reshaping-business-with-artificial-intelligence/
³ https://www.forbes.com/sites/ciocentral/2017/06/07/how-ai-and-machine-learning-are-helping-drive-the-ge-digital-transformation/#4cd5d4db1686
4 https://www.forbes.com/forbesinsights/bmc_itsm/index.html
5  http://www.itsmacademy.com/content/What%20is%20Agile%20Service%20Management%20V1%20R1.1.pdf