15% of Your Operating Expenses are Vanishing Right Before Your Eyes!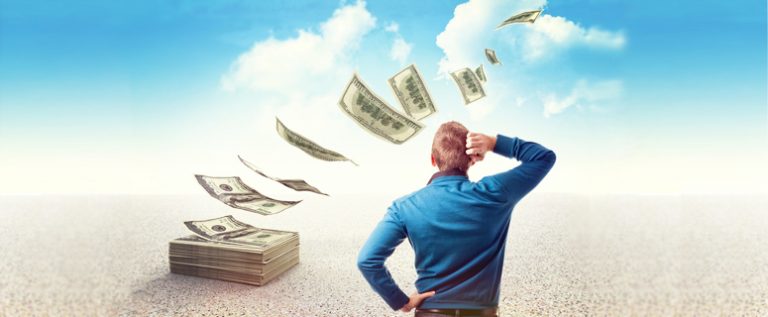 Follow the money…
Human Resources (HR) is typically far from a top priority for many businesses. That is until you are short on staff or need help dealing with concerning behaviors. Yes, we all need this group for recruiting, onboarding, training, and occasionally to support performance improvement initiatives, yet in many organizations these people costs are overlooked by executives. According to Forbes, many companies consider HR a "back-office function."1 So when HR is not visible it can quickly become a cost challenge, especially with recruiting, onboarding and training (hard costs) rising annually and the inefficiencies from re-training, lost customer relationships and missing information (soft costs) typically going unnoticed.
HR is so much more than just hiring and firing these days. The lifecycle cost associated with managing people has been labeled Human Capital Management (HCM). Studies demonstrate that the long-term impact measured from not effectively hiring, maintaining employee engagement and increasing retention can easily catapult and organization to the top or bottom of their industry.
According to the Society for Human Resource Management (SHRM) research, the average HCM costs for a company are 15% of operating expenses. With continuous turnover and new employee initiatives it is easily rationalized that the average of $10,211 spent on HR expenses per full time equivalent (FTE) is most likely a conservative estimate since soft costs vary by organization.2
SHRM estimates that the fully-loaded cost of finding and replacing a new hire have averages 2 times3 the recruit's annual salary depending on the industry. Also, according to SHRM, in 2016 there was an average annual employee turnover rate of 19%. Doing some quick math for your business, it is easy to estimate how expensive it is to replace almost 20% of your workforce annually. Especially since the cost of hiring an individual often requires the following expenses:
3rd party recruiting fees
On-Boarding and job specific training
Employment benefits
Administrative expenses
And the inefficiencies associated with the job vacancy
According SHRM the average cost just to hire an individual is $4,129.4
Quick Calculations for Your Organization
Using the below formulas from SHRM you can quickly get a rough estimate on the direct cost of hiring a new employee and the fully-loaded replacement costs that employee hiring has at your business.
Cost of Hiring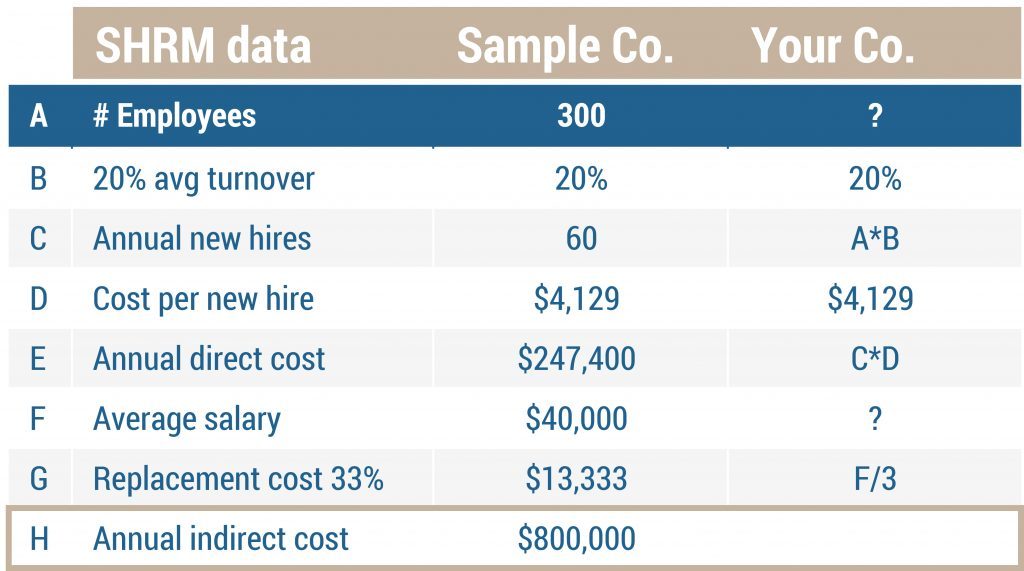 It quickly becomes apparent that shaving just 10% off the sample company's direct costs would add back $24,774 to the bottom line. And if you reduced the fully loaded replacement cost by just 10% the impact on the bottom line more than triples to $80,000. So, if a sample company can increase profitability by over $100,000 ($25,200+$80,000) by hiring and keeping about 10% more of the 'right employees' imagine the impact on your organization.
Who are these 'right employees'?
While many leaders in an organization can easily identify their superstar employees at their company; the rest of the staff are often overlooked and without leadership and innovation become average to below-average performers. Over the years, for-profit and non-profit organizations alike have prided themselves on not downsizing or keeping their employees while still maintaining target profitability levels. Unfortunately keeping average or below average employees just isn't a sound business solution. Each time a company decides to ignore complacent and unengaged employees, it loses significantly more revenues than it would by letting them go and replacing them with the 'right employees'. And according to the U.S. Department of Labor, the price of a bad hire is at least 30 percent of the employee's first-year earnings.5 This cost far outpaces earnings that the individual makes for most companies.
How can you save at least 10% of these expenses?
There needs to be a new method that replaces the traditional HCM model to accommodate where not just our current operating model, but align with where businesses are headed. The Future of Work is an increasingly competitive and global economy, with technological disruptors and new competition being unveiled each week. The speed of change has created an environment where companies have difficulty defining what they need now and especially not what they need out of their employees 1 to 3 years from when they are hired. Organizations that adopt principles that enable their employees to adapt to this Future of Work will be better equipped for change and stay more competitive in the marketplace.
By focusing on employee engagement, organizations can make it easier to achieve strategic goals and objectives while being agile and responsive to new market conditions. Aligning with the Future of Work and structuring hiring and engagement strategies around today's market will help your leadership team to better align your people strategy with the organization's overall culture and its mission and values. Being a Responsive organization prepares you for the Future of Work aligning Human Capital Management (HCM) with the organizations vision. One example of a Responsive company that has been recognized as a leader in modeling Responsive Human Capital Management is Google.
Case Study: Over 2.5 Million Job Applicants Each Year at Google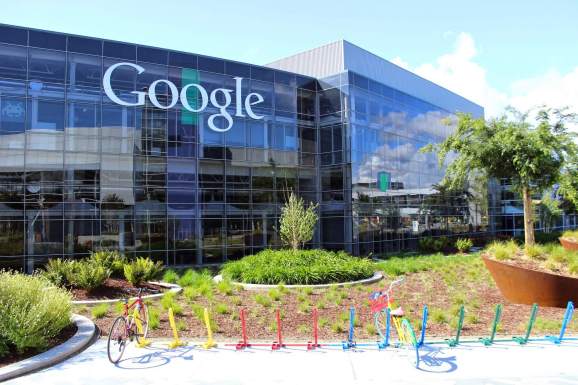 Google works with its employees to hire the best people in the quickest time possible. Google receives over 2.5 million job applicants each year6 which shows how people covet the company's working environment. To treat candidates fairly, Google has standardized their hiring process through analytics.
Google's People Operations team (those responsible for HCM) have restructured their hiring process based on the Schmidt and Hunter's 1998 study on 85 years of research on how well assessments predict performance, which showed that standardized questions have the highest correlation to job performance other than work sample tests. 7
Google combines behavioral and situational structured interviews with assessments of cognitive ability, conscientiousness, and leadership. Google aids its interviewers by using an internal tool called qDroid, where an interviewer picks the job they are screening for, checks the attributes they want to test, and is emailed an interview guide with questions designed to predict performance for that job. Interviewers can also share the document with others on the interview panel, so everyone can collaborate to assess the candidate from all perspectives.8
According to Business Insider, Google takes an average of six weeks to secure a hire, and every candidate needs to be screened by their potential boss, potential colleagues, and a hiring committee.9 Google uses the following principles in the hiring process:
Only hire people better than you
Employees need references from Google employees
Make the process objective, comprehensive and unbiased
Give them a reason to be there and to stay
In addition to being meticulous in the hiring process, Google leadership has embraced creating their own organization specific attributes that align with their culture. One example is identifying if a candidate has 'Googleyness'. Googleyness is defined by Lazlo Bock, head of people operations at Google, as…
"Attributes like enjoying fun (who doesn't), a certain dose of intellectual humility (it's hard to learn if you can't admit that you might be wrong), a strong measure of conscientiousness (we want owners, not employees), comfort with ambiguity (we don't know how our business will evolve, and navigating Google internally requires dealing with a lot of ambiguity), and evidence that you've taken some courageous or interesting paths in your life."
Following the above principles and fully embracing the company culture, Google's recruiting time has been slashed from taking 10 hours of a manager's time each week to 1.5 hours each week.10
Examples of Google's standard hire interview questions:
Tell me about a time your behavior had a positive impact on your team. Follow-ups:
• What was your primary goal and why?
• How did your teammates respond?
• Moving forward, what's your plan?
Tell me about a time when you effectively managed your team to achieve a goal. What did your approach look like? Follow-ups:
• What were your targets and how did you meet them as an individual and as a team?
• How did you adapt your leadership approach to different individuals?
• What was the key takeaway from this specific situation?
Tell me about a time you had difficulty working with someone (can be a coworker, classmate, client). What made this person difficult to work with for you? Follow-ups:
• What steps did you take to resolve the problem?
• What was the outcome?
• What could you have done differently?
The questions give Google interviewers a consistent, reliable basis for sifting the superb candidates from the merely great. Superb candidates will have a lot better examples and reasons for making the choices they did. Lazlo Bock, Senior Vice President of People Operations at Google, explained the following in his book, Work Rules!:
"For example, imagine you're interviewing someone for a tech-support job. A solid answer for "identifies solutions" would be, "I fixed the laptop battery like my customer asked." An outstanding answer would be, "I figured that since he had complained about battery life in the past and was about to go on a trip, I'd also get a spare battery in case he needed it." Applying a boring- seeming rubric is the key to quantifying and taming the mess."11
Google's version of the scoring for general cognitive ability has five components, starting with how well the candidate understands the problem. For each component, the interviewer has to indicate how the candidate did, and each performance level is clearly defined. The interviewer then has to write exactly how the candidate demonstrated their general cognitive ability, so later reviewers can make their own assessment.12  Bock continues,
"A concise hiring rubric addresses all these issues because it distills messy, vague, and complicated work situations down to measurable, comparable results. Overall, fight for quality."13
Responsive Organizations Excel at HCM
Google is a Responsive company that fights for quality in every aspect of their business, especially within their "People Operations." Responsive companies use HCM to deliver the best solutions for employee needs, cutting down on time and resources for hiring, and then hire well. By working with leaders in the organization, front-line managers, and human resource personnel, Responsive organizations partner with HCM to take a holistic approach to restructuring hiring by assessing candidates based on performance information directly correlated to how successful they would ultimately be when they are hired. Based on statistics, Responsive organizations provide a sustainable and long-term solution for employee needs. By finding the right solution for identifying truly qualified hires, creating a strong sense of purpose, and challenging the status quo, Responsive organizations use HCM to foster impactful change within every organization.
To learn more about Responsive visit http://responsive.org and to get involved locally find us at http://responsiveorgphx.org.
MSS works with companies to manage their human capital management and deliver effective organizational changes. If you are interested in learning more, email David Lee at dlee@mssbti.com.
---
¹ https://www.forbes.com/sites/forbeshumanresourcescouncil/2017/08/09/why-every-ceo-should-give-hr-a-seat-at-the-table/2/#3afe9a7c61f0
² https://www.shrm.org/hr-today/trends-and-forecasting/research-and-surveys/Documents/2016-Human-Capital-Report.pdf
³ Allen, D. (2008). Retaining Talent. Retrieved August 17, 2017 from https://www.shrm.org/hr-today/trends-and-forecasting/special-reports-and-expert-views/Documents/Retaining-Talent.pdf
4 https://www.shrm.org/about-shrm/press-room/press-releases/pages/human-capital-benchmarking-report.aspx
5 http://www.humanresourcesiq.com/hr-talent-aquisition/articles/what-s-the-real-cost-of-a-bad-hire
6 Bullygo, Z. (2013). Inside Google's Culture of Success and Employee Happiness. Retrieved August 21, 2017 from https://blog.kissmetrics.com/googles-culture-of-success/
7 Schmidt, F. L., & Hunter, J. E. (1998). The validity and utility of selection methods in personnel psychology: Practical and theoretical implications of 85 years of research findings. Psychological bulletin, 124(2), 262.
8 Bock, L. (2015). Here's Google's Secret To Hiring The Best People. WIRED. Retrieved August 21, 2017 from https://www.wired.com/2015/04/hire-like-google/
9 Feloni, R. (2016). Google's HR boss explains the company's 4 rules for hiring the best employees. Retrieved August 21, 2017 from http://www.businessinsider.com/how-google-hires-exceptional-employees-2016-2
10 Feloni, R. (2016). Google's HR boss explains the company's 4 rules for hiring the best employees. Retrieved August 21, 2017 from http://www.businessinsider.com/how-google-hires-exceptional-employees-2016-2
11 Bock, L. (2015). Work rules!: Insights from inside Google that will transform how you live and lead. Hachette UK.
12 Bock, L. (2015). Here's Google's Secret To Hiring The Best People. WIRED. Retrieved August 21, 2017 from https://www.wired.com/2015/04/hire-like-google/
13 Bock, L. (2015). Work rules!: Insights from inside Google that will transform how you live and lead. Hachette UK.